Skip to Content
Island Blog
From resort updates and announcements to special travel tips and insider secrets, be the first to know the latest about Ko`a Kea Resort and all things Kaua`i here on our island blog.
Our Favorite Kauai Natural Wonders
Whether you're looking for breathtaking vistas, a romantic proposal setting or simply an incredible backdrop for a selfie, we've gathered our favorite natural wonders of Kauai for your discovery.
Wailua Falls
So iconic is its beauty, Wailua Falls is frequently used in films to portray tropical perfection. Two tall, slender chutes of water drop dramatically, 80 feet into a jade canyon to a crystalline pool below. Take in the incredible views of the falls from the roadside (easily accessible by car) or hike the path to the base of the falls.
Best time to view: Morning visitors may see a rainbow as the AM sun shines through the waterfall's mist.
To get there: Follow Maalo Road in Hanamaulu uphill for 3 miles. The parking area offers a stunning overlook view and access to the trailhead.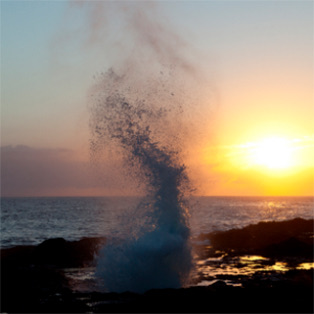 Spouting Horn
Local lore has it that the spouting water and accompanying dragon-like hiss are actually the breath and roar of a giant lizard who guarded these lands. Spouting Horn, at the South shore near Poipu, is one of the most photographed sights in Kauai. Ocean waves travel through a lava tube and are jetted in a spout of water 50 feet into the air with a hiss and a roar.
Best time to view: Sunsets are spectacular as the rushing waterspout takes on the colors of the sunset.
To get there: Spouting Horn Park is easily accessible with plentiful parking. At the Poipu Road roundabout – take Lawai Road for 2.5 miles to the easily accessible parking area. Just follow the signs for Spouting Horn.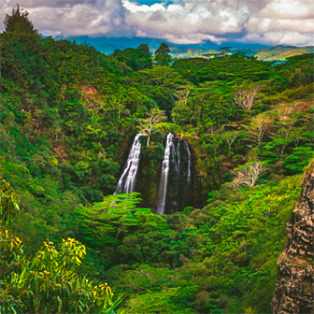 Opaekaa Falls
Surrounded by lush greenery, this majestic 150-foot tall, 40-foot wide waterfall gently cascades down to a hidden pool. An overlook with sturdy handrails and paved pathway provides makes this panoramic view easily accessible.
Best time to view: Snack-time. Grab a gourmet lunch to enjoy at the picnic tables for an al fresco treat with an unrivaled view.
To get there: From Wailua, go two miles up Route 580. Signs will point you towards the lookout which is located on the right.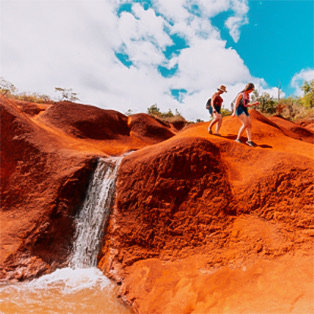 Waimea Canyon and the Red Dirt Waterfall
Called "the Grand Canyon of the Pacific," the extraordinary Waimea Canyon is 14 miles long and offers incredible hiking and views of buttes, cliffs and deep red and orange gorges. In one section of this wonderland, a gentle stream winds through red, barren hills with the one-of-a-kind little Red Dirt Waterfall.
Best time to view:
Red Dirt Waterfall: After a rainstorm for the fullest flow.
Waimea Canyon: Anytime! It's always spectacular.
To get there: Simply take Waimea Canyon Drive (Route 550) from Waimea Town. The falls are on the left at the 23-mile marker. Follow signs to find the Canyon parking area.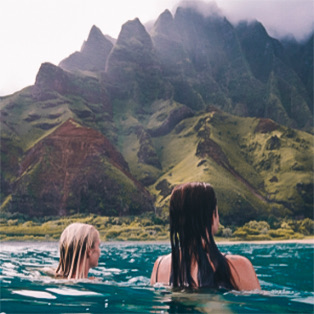 NaPali Coast by Water
This 11-mile stretch of sea cliffs, lava rock caves, cascading waterfalls and pristine beaches is extraordinarily beautiful and untouched. The cliffs (pali) rise up to 4,000 feet from the Pacific waves. With no roads, this area is accessible only by hiking, boat or helicopter. Our preference: by sea to explore the inlets, beaches, caves and go for a snorkel with the dolphins.
Best time to view: Afternoon provides dramatic lighting for beautiful views and unbeatable selfies.
Read other posts