Skip to Content
Island Blog
From resort updates and announcements to special travel tips and insider secrets, be the first to know the latest about Ko`a Kea Resort and all things Kaua`i here on our island blog.
Kauai Beaches For Every Type of Traveler
So whether you're looking to lounge, laze, snorkel, swim, spot wildlife or wander, you will find your perfect piece of paradise in Kauai – we'll tell you where:
Poipu Beach – For the Animal Lover
Our favorite beach and our home! With crystal clear waters and small, gently breaking waves, this is the ideal beach to fully unwind – and also to spot wildlife! Poipu Beach is actually two beaches separated by a narrow sandy strip of land stretching out to a small island, making for calm waters that both humans and animals adore. Frequent sunbathers include the endangered and adorable Hawaiian monk seals (likely taking a nap) and Hawaiian green sea turtles as well as endearing feral chickens. Blue whales and dolphins can be spotted from shore, and colorful reef fish, sea cucumbers and spotted moray eels can be seen under the crystalline waters. With a lifeguard on duty 7 days a week and gentle waves, Poipu is considered one of the safest beaches on the island.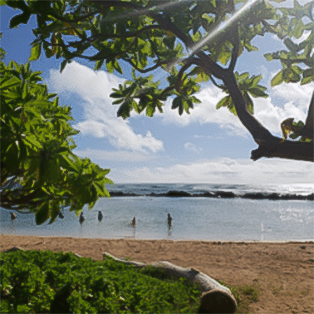 Lydgate Beach – For the Family
Stretching out from the golden sand beach into the aqua water, two rings of lava-rock breakwaters create protected lagoons of exceptionally calm, still waters making this the perfect playspace for families with young children. With tranquil waters and colorful tropical fish, Lydgate Beach is also an amazing spot for beginner snorkelers. Grab a picnic lunch to enjoy at the nearby picnic tables and spend the day in paradise.
Kekaha Beach – For Anglers and Walkers
With the longest stretch of white sand beach in all of Hawaii, Kekaha Beach is made for amazing walks along miles and miles of shore. Wide swaths of soft sand invite sunbathing and lazing. Offshore, wilder currents mean that fish are abundant, making it one of the top spots for local fishermen.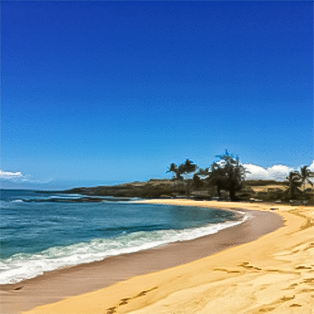 Salt Pond Beach – For Swimmers, Snorkelers & Culture Lovers
The natural reefs that protects Salt Pond Beach from rough ocean waves makes the lagoons one of Kauai's top spots for snorkeling and swimming. Strap on your mask and snorkel to spot the Hawaiian damselfish, brilliant orange hawkfish and colorful corals. After your swim, grab a bite from the taco stand and relax on the soft, warm, golden sands. Linger in the laid-back ambiance of this perfect paradise to take in an incredible sunset.
The beach gets its name from its salt ponds - the only natural salt beds on Kauai. An important cultural asset, the Salt Beds of Hanapepe is where generations of Hawaiian families have engaged in the sacred practice of producing Hawaiian Sea Salt. Underground saltwater from ancient wells is transferred to shallow clay beds, where it evaporates to produce a unique red salt that may be given or traded, but never sold.
A 'o ia – there you have it! The best beaches for your type of travel. But really, why choose? All of Kauai's incredible beaches await your exploration.
Read other posts